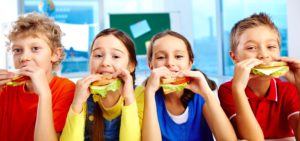 Standing in front of the fridge every morning, deciding what to eat for lunch—and what to pack in your kids' school lunches—can be a challenge (a frustrating one!).  That challenge complicates when you add in trying to decide on foods beneficial for you and your kids' health—and their mouth.  If you want to help make every dentist appointment a pleasant one for your entire family, pack lunches with foods that are not just healthy for your body, but also your mouth.
In general terms, foods that fit these criteria are rich in calcium (makes for stronger teeth!), protein, and fruits and vegetables that make you chew more (generating more saliva and also rich in vitamins and minerals)—all of which are perfect for lunch breaks when you don't have time to brush.
Yogurt
Carrots
Cheese sticks
Turkey sandwich with whole grain bun
Chicken slices
Chicken sandwich with whole grain bun
Cucumbers
Melon chunks (small enough so they are not a choking hazard)
Celery sticks
Strawberries
Blueberries
Pear slices
Apples
Tuna sandwich with whole grain bun
Hard-boiled egg
Soup
Red peppers
Milk
Cucumbers
Broccoli
Ham sandwich with whole grain bun
Cheese slice (alone or on a sandwich)
Whole grain pasta
Now that we've given you a list of what to pack, here's what not to pack in your lunch to keep your mouth healthy: anything sweetened.  Avoid soda (here's why), sweetened juices, candy, and anything gummy if you can't get to a toothbrush and toothpaste right away.  Add biannual dentist appointments and cleanings and regular brushing and flossing to your tooth-healthy lunch regimen and you've got all the ingredients for a healthy mouth (for you and your family!).