Covid-19 Response Policies
Dear Valued Patients,
We hope you and your families are doing well and staying healthy. Our team is as dedicated as ever to serving you and providing you reasons to smile safely. Our number one priority continues to be the health and safety of our patients, our team, and our communities. Universal precautions and infection control measures have and will continue to be used to keep you safe. Due to the pandemic, we have increased those measures and closely follow recommendations by the ADA, CDC, and OSHA to ensure we are up to-date on any changes to guidelines.
Visit/Appointments
We have spaced our waiting room chairs and limited shared contact items, such as magazines. To help prevent congestion in our waiting room, we ask for companions or drivers stay in their cars. If it is a particularly cold or hot day and is unsafe to stay in the vehicle, please feel free to come in with a mask.
As part of the check-in process, and to increase safety for all, we will check your temperature and ask required screening questions.
When your treatment room is ready, one of our friendly assistants will come out and bring you back. As stated, we ask for you to come to your appointment alone or for your companion to stay in the car to minimize the amount of people in the office at a time. The exception, of course, is for a guardian of a young child or adult with special needs.
Please bring your own mask and wear it to your appointment. We are following provided guidelines to keep you and our team safe. If you do not have your own mask, we will provide one for you. However, please keep in mind, personal protective equipment (PPE) supplies are dangerously low throughout the country. If we run out, we will have to close the office until the supply chain is back to normal. Thank you, in advance, for your cooperation!
We will also provide you with hand sanitizer or soap and water to use as you enter and before you leave the office.
The Office
We have significantly reduced the number of chairs in our waiting room for those who are unable to wait in their cars, so we are able to adhere to the social distancing
requirements. We disinfect touched surfaces between patients and have removed all of the magazines, toys, and items on the counter tops.
Upon check out at the front desk, it is not always possible to maintain the 6 feet social distancing guidelines. Though we hope these will not be in place forever, we have added plexiglass barriers to the front desk workstations in order to reduce droplet exposure.
We invested in Medify Air purifiers for every treatment room, our sterilization rooms, and our front desk/waiting areas. These units have H13 HEPA filters and provide medical grade filtration due to the purity of the air they filter (they capture 99.9% of particles down to 0.1 microns).
We have moved our water dispensers and covered our drinking fountains as recommended, however, we are still happy to get you a glass of water should you get thirsty. You are welcome to bring your own water bottle.
Our pre-procedure rinse has changed. Before we start, you will rinse with 1.5% hydrogen peroxide for 60 seconds. This has been shown to lessen any potential virus particles in saliva being spread into the air.
We also installed DryShield in every room as an option to use at your visit. This device is comfortable and helps keep the work environment dry and clean. You will still receive the same high-quality oral health care that you have come to expect at Area Dental.
We will be wiping down commonly touched surfaces such as door handles, bathroom fixtures, credit card terminals, front desk counters, etc. frequently.
Additionally, we will continue to have our full-time housekeeper clean and disinfect our offices daily, as she has done for over 20 years.
Our Team
Every day, each one of our team members will fill out a COVID-19 screening questionnaire and have temperatures taken upon arrival to work, as well as a second time during the day. If a team member has an elevated temperature or is deemed a risk, he/she will go home.
Every team member will be wearing a mask and, though our smiles may be covered, we are all happy and honored to see and serve you.
Our clinical team members, in addition to masks, will be wearing scrubs that are laundered at the office, face shields, scrub caps, washable gowns, and gloves. Moving forward, we will continue to monitor the recommendations of the regulatory bodies to ensure that we are keeping our patients, our team, and our communities as safe as possible. After all, a pandemic doesn't change the importance of taking care of your oral health, it just changes how we do it and we are well prepared to continue to serve you and your dental needs. Please let us know if you have any questions. Your trust is something that we will never take for granted. Thank you! See you soon!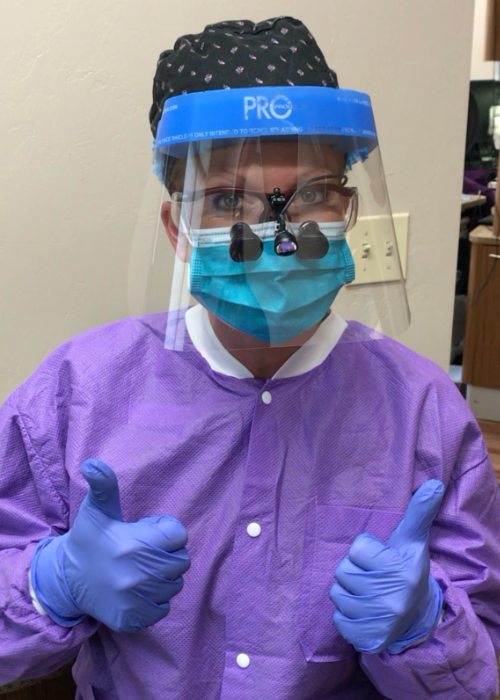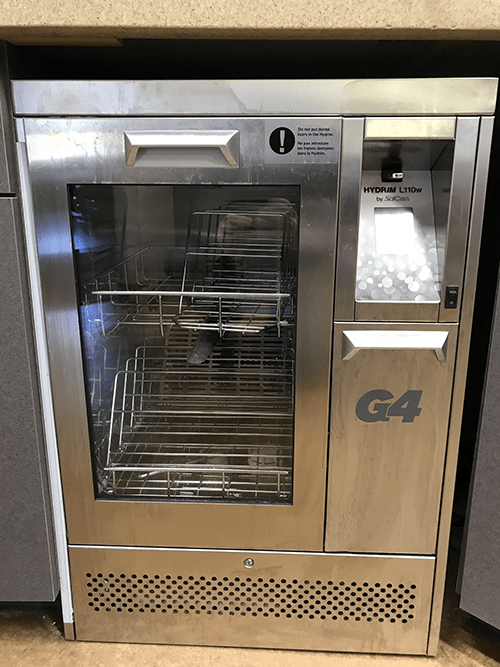 Sterilization of Instruments
At Area Dental Clinic, your health and safety has always been a priority. All of the instruments we use go through a comprehensive cleaning and sterilization process to ensure your safety. Before and after every patient use, the instruments and cassettes are run through either a Hydrim or Biosonic machine to clean and remove any debris. Then the instruments are thoroughly and visually inspected by our sterilization coordinator. Next, the instruments are bagged or wrapped in sterilization pouches with indicator strips and placed in the appropriate sterilizer. Once the sterilizers have completed their cycles, each bag is examined to make sure the indicator strips show sterilization has been successful. The instruments are then date stamped and stored properly. All of our sterilization equipment is on a regular cleaning, testing, and monitoring program.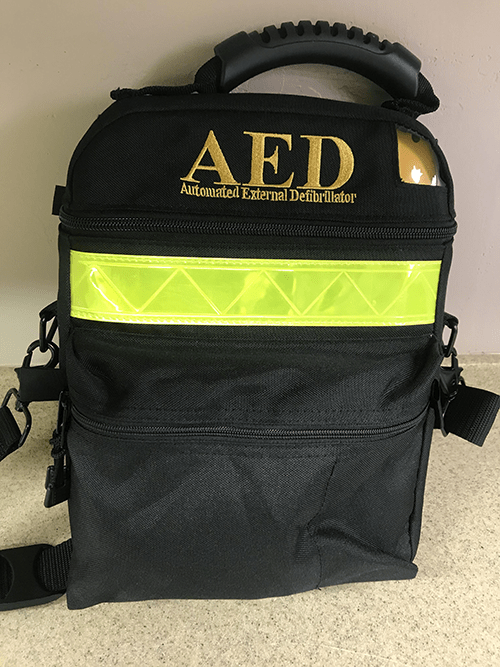 AED
In the event of a cardiac emergency, each of our offices are equipped with an AED, portable Oxygen, and all of our clinical team is trained in CPR, AED use, and First Aid.
Safe Water
Clean water is healthy water and, at Area Dental, we have multiple ways of knowing our water is safe. Our offices have reverse osmosis and water distilling equipment in each building. You can be sure this high quality water is what is used in the treatment rooms, as well as what we provide you by way of the water fountains. In addition, we have DentaPure straws in the treatment room water bottles that provide an additional step of water filtration before the water enters your mouth.