Sedation Dentistry Options
We understand that just the thought of the dental office can stir up feelings of anxiety for some patients. We know it's not us, but the body's natural response to feeling vulnerable. Our compassionate and comforting team is here to guide you through your appointment and look forward to providing you reasons to smile. If you think sedation dentistry will make your visit more enjoyable, please contact us to learn more and discuss your options.
Nitrous Oxide/Laughing Gas
Nitrous Oxide, otherwise known as "laughing gas," is a safe, effective, and customized dose of sedative agent mixed with oxygen that is inhaled through a small, comfortable mask placed over your nose. You will be awake and able to respond to direction, while feeling a sense of euphoria and relaxation during your dental appointment. One of the benefits of this form of sedation is that it wears off quickly and you will be able to drive yourself home from your appointment without feeling groggy.
Oral Conscious Sedation
Oral Conscious Sedation comes in the form of pills, which need to be taken about an hour before your appointment. These affect people differently, but typically you will feel relaxed, maybe drowsy, yet still alert enough to respond to verbal direction during your treatment. These side effects last about 4-6 hours, so you will need to plan to have someone drive you home from your appointment and will not be able to resume your daily activities right away.
IV Conscious Sedation- Oral Surgery Only
IV Conscious Sedation is often the preferred method for oral surgery. Medications are administered through a line inserted into a vein. This is also commonly known as "twilight anesthesia," as it is a depressed level of consciousness with the ability to respond to verbal commands. Most patients will only have a dim memory about the procedure or none at all with this type of anesthesia. Supplemental oxygen is delivered through the nose and the patient's vital signs are closely monitored during and after the procedure. The side effects of this form of sedation are longer lasting, so you will need to have someone drive you home from your appointment, and we recommend that someone stay with you for a few hours after you have returned home. You should not drive or make important decisions for 24 hours after sedation.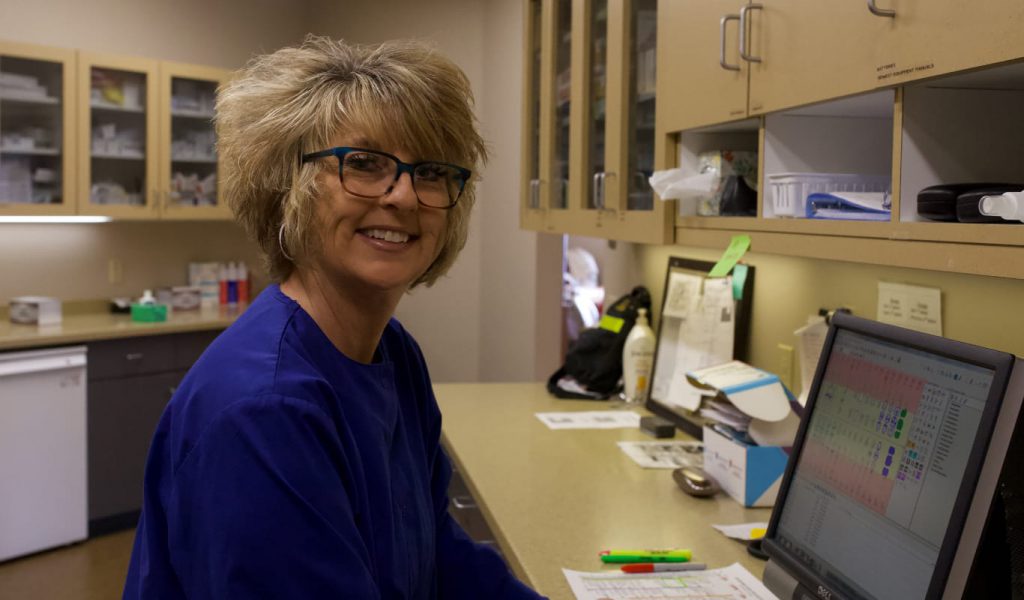 Our Caring Dental Team
The best part of working at Area Dental Clinic is building relationships with every unique patient who comes through our doors. Our dentists, assistants, hygienists, coordinators, and support team have more than just years of experience in the dental industry — we also have a passion for giving you and your family reasons to smile.
Meet Our Team