February may be the official National Children's Dental Health Month, but every day is an opportunity for good dental health when you have kids. Good brushing habits, flossing, and regular dental visits are vital to the long-term health of your children—a prime reason to instill good oral care habits in kids when they're young. We know that's hard to remember when your toddler is clenching their teeth shut or your little one is screaming bloody murder because they don't want to put their shoes on to go to the dentist, but it really is worth the effort to avoid significant dental problems later in life.
Start early.
The American Dental Association recommends kids see the dentist by their first birthday, followed by biannual appointments. By two, your kids can start brushing on their own to establish independence (though you should do a quick check and help regularly). Starting early in life ensures that you establish good oral habits that can prevent dental problems, and regular dental appointments ensure that any problem areas are caught and treated.
Teach your kids to brush (and floss!)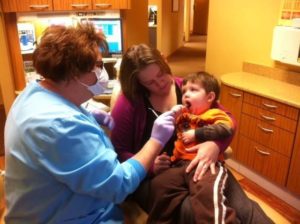 Make brushing fun! Get toothbrushes (and toothpaste) your kids like. Let them pick out fun toothbrushes that make them want to brush their teeth. To make sure they are brushing long enough, use these fun videos or download one of these cool apps to make brushing for two minutes fun.
Be a good role model.
Your kids literally look up to you, so make sure you model good oral care. Brush your teeth twice a day, one of those times with the kids, and floss on a regular basis. Schedule dentists' appointments regularly, and talk to your kids about why it's important to visit the dentist. For parents who are normally nervous about a visit to the dentist, seize this opportunity to overcome your fear (we've given you tips in this blog post) so your kids don't pick up on your anxiety.
Choose your dentist carefully.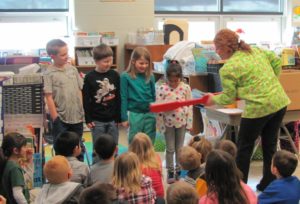 If you want your children to (hopefully!) enjoy a lifetime of dentist appointments, choose a dentist that is comfortable with kids. A good dentist should be good with your kids, and a good listener that can answer your questions: two keys to helping your kids love (and not fear!) the dentist. If you have a child that doesn't like surprises, make sure you talk to your child about the dentist before you go and practice the dentist appointment at home to make them more comfortable.
Don't be the only to talk about good oral health.
Make sure your babysitters, nannies, and other caregivers reinforce good brushing habits when they care for your children. If your kids are in a local Watertown school, have your kids hear about the importance of brushing habits straight from the source: the dental hygienists that clean their teeth.