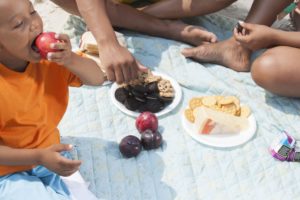 Summer comes with a list of fun: swimming, yard games, hiking…and enjoying a host of summer treats. While those treats may make your (and our!) mouths water, they can damage your teeth if you're not careful. That's why we've given you a list of summer treats that you should enjoy (with caution!) and tips that keep your teeth healthy until fall.
Soda
Summer and soda go together like peanut butter and jelly. You can find soda at every grill out, company picnic, brat fry, and get together. Unfortunately, those delicious sodas (and sugary drinks) come with a cost: cavities. The sugar in the soda combines with the bacteria in your mouth to create the perfect storm that can wear down enamel and cause cavities.
Iced coffee
Iced coffee may be a great (and cool!) way to start a hot summer day, but it comes with a double dose of caution. Iced coffee can stain your teeth and the added flavors are loaded with sugar. Sipping at an iced coffee throughout the morning continuously stains and delivers sugar to your mouth, damaging your teeth and putting your hopes of no bad news at your next dentist appointment at risk.
Ice cream
Ice cream is delicious, wonderfully cold on a hot day, full of calcium, and damaging to your teeth. Many ice creams are produced with a lot of sugar, putting your teeth at risk for cavities and gum disease. Ice cream is also one of the chief offenders for people with sensitive teeth, which is caused by an erosion of tooth enamel.
Pickles
Pickles are a delicious burger topping and simple side dish at every grill out; however, the vinegary acid that makes pickles so mouth-watering can also erode your enamel and cause sensitive teeth.
Lemonade
This delicious drink may be a summer staple, but it's also an acidic drink. The acid in lemonade can wear down enamel over time. Flavored lemonade can have a secondary hazard: sugar. When you do enjoy a delicious glass, drink it down—don't sip!
Potato Chips
Salty potato chips are mouth-watering; unfortunately they are also a mouth hazard. Potato chips have a pesky way of breaking into little pieces that can hide in your mouth and get stuck in between teeth. With a high starch content, potato chips can put your mouth at risk for cavities and a host of other dental problems.
Tips for keeping your mouth healthy this summer
Minimize the amount of summer treats you eat and drink.
Rinse your mouth with water or drink water after enjoying sugary treats (if you can't brush right away).
Brush and floss regularly (tips for good brushing habits here).
Avoid eating sugary foods before bed.
Use a straw when drinking sugary drinks.