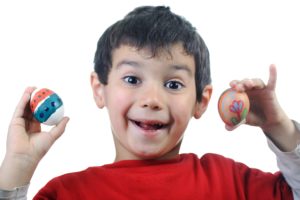 We know everyone (well, almost everyone) loves a chocolate Easter bunny in their Easter basket, but the truth is that sweet hare is not the best for your teeth.  If you're looking for Easter gift ideas that are fun and tooth-healthy, fill your baskets with these fun (and dentist-approved!) gifts:
Seeds
Give your Easter recipient a head start on their garden this year by giving them flower or vegetable seeds for their garden.  To give them a huge head start, add a small pot that they can use to start their plants in the house before they transplant the seedlings outside when the weather gets warmer.  Or give them an indoor garden that they can watch grow long after Easter is done.
Melted crayons
A melted crayon craft is sure to be a hit with your littlest Easter gift recipients.  If you have pieces of crayons around the house, remove the papers from your crayons and melt down your leftover crayons into one of the cutest—and coolest—Easter gifts.  (Here are the exact directions on this website with times and oven temps).
IOU
Think big with your IOU; not in dollars and cents, but in time.  Include an IOU (or the actual tickets) to the theater, a play date at your favorite little one's museum or playground, or a ball game.  Take your IOU gift a step farther by making it a themed basket. For example, stock your basket full of sports-themed items for a big fan.  Give your little one a playdate delight with an IOU to a children's museum, bubbles, water toys, and other toys your little recipient can't wait to play with.
Piggy bank
A piggy bank is going to be appreciated by anyone: a small child just starting to save up their pennies; a wanna-be homeowner trying to save for a down payment; an experienced traveler who is scrimping so they can head out on their next trip.
Puzzles
Puzzles are great for gift recipients of all ages.  They are also easy-to-find in many designs so you're sure to find the right one that your gift recipient'll love. If you have a very experienced puzzle nut, look for a 3D puzzle challenge that'll make them look forward to tackling their next puzzle.
Coloring books
Before you think this suggestion is just for little kids, you can find adult coloring books for anyone who needs quiet de-stressing or really enjoys art.  Either way, a coloring book is the perfect gift for any age gift recipient.
Craft supplies
Jewelry-making kits, sun catcher painting, scrapbooking supplies, fabric and sewing notions….your youngest or most experienced craft fanatic is going to be your biggest fan after you give them another project to tackle.  Have fun with your Easter basket stuffers because you know your craft lover will.
Silly straws (perfect for drinking sweetened drinks)
Everyone loves silly straws, and including silly straws in your Easter basket has an added bonus: it's perfect for someone trying to keep a healthy smile.  Straws are helpful for anyone who wants to indulge in an occasional soda; using a straw, rinsing with water afterward, and these other tips for drinking soda and sweetened drinks can make Easter more fun—especially when you still have a healthy smile after it's all done.