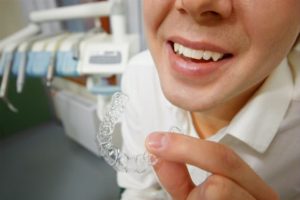 When we tell patients they may need braces, they have a million questions.  While we can't list all of the questions here, we can list the most frequently asked questions and answers that you'll want to know when you hear "you need braces."
Are braces only for crooked teeth?
No. While braces have always been associated only with crooked teeth, braces are also helpful for correcting any number of issues such as overbites, underbites, crossbites, and crowding of the teeth.
What are my options for braces?
There are typically four options for patients who need braces:
Traditional Braces use stainless steel brackets and rubber bands that move your teeth by applying pressure. Today's braces are thinner than older versions and can correct the issue quickly (faster than invisible braces).  Traditional braces need to be cleaned carefully, and do require some maintenance.  Patients cannot eat some foods while they have braces on.
Ceramic Braces work the same way as traditional braces, without the stainless steel. These braces are made to blend in with your teeth and use white and clear bands. Usually these braces are less obvious than traditional braces but require more maintenance by patients before they are not as durable.
Lingual Braces are traditional braces that are installed behind the teeth, which makes them virtually unnoticeable. Because of this, lingual braces take longer to put in and can impact a person's speaking.  Lingual braces can be hard to clean.
Invisible Braces (Invisalign) correct orthodontic problems with a series of removable clear trays that need to be worn for 20 hours a day. Patients can eat any food while they have invisible braces.  Invisible braces are only available for teens and adults, and require less orthodontist visits than traditional braces.
Do braces hurt?
Our patients have reported some discomfort while wearing braces, most commonly after tightening appointments.  If you do experience some discomfort, your dentist may recommend an over-the-counter medication to help manage the discomfort.
Does Invisalign cost more than traditional braces?
Not at Area Dental Clinic in Watertown.  The cost for traditional braces and Invisalign are the same.
Where can I get braces?
To find out if you need braces, schedule an appointment with an orthodontist or a dentist certified to provide orthodontic services (both Dr. Thomas and Dr. Gibson are certified).  The dentist or orthodontist examines your teeth, takes x-rays if needed, and discusses the options for braces with you.
How long do I need braces?
Every person is different, and so is the time they need to wear braces to correct their problem.  Some patients need braces for only 6 months, while others may need treatment for 2 years to correct their issue.
Does insurance cover the cost of braces?
It depends on the type of insurance you have.  Some dental insurance does cover braces, others cover a part of the cost, while others do not cover the cost in any way.  The best way to find out is to contact your insurance provider to find out whether and, if so, how much of the cost is covered under your insurance plan.
Where can I find out more about braces?
If you have any questions about dental braces, contact one of our Area Dental Clinic dentists, Dr. Gibson or Dr. Thomas. Both dentists are certified to provide orthodontic services to adults and children, including Invisalign, and can answer any questions you have. Schedule a consultation to get an exam and information so you can find out more about your specific condition and braces.