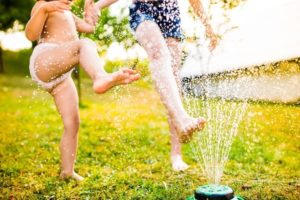 When the temperatures rise, staying cool may feel like a luxury. In reality, though, keeping cool is actually an important part of staying healthy and keeping heat-related emergencies at bay. Summer is too beautiful to spend in urgent care! These 'stay cool' can help you get through the steamiest days and keep you from dealing with painful heat cramps, exhaustion, and heatstroke. (Seek medical help immediately if you are experiencing dizziness, headache, hot and red skin, or any of these other symptoms of a heat-related emergency.)
Choose your clothing carefully.
Lighter fabrics and colors are your friend when the temperature rises. Shy away from dark colors, like black and navy blue, and favor loose-fitting and lighter-colored shirts that don't absorb the heat.
Use fans.
If you have ceiling fans, set them to run in a counter clockwise direction. This simple step directs the cool air down on you and keeps you cooler.
Stay hydrated.
When you are heading out into the heat, keep water and sports drinks on hand at all times; poor hydration can play a significant part in causing heat cramps and other heat-related health issues. Avoid drinks with alcohol or caffeine. Don't forget to keep a bowl out for your furry friends too!
Head to the pool.
Even a kiddie pool can be a godsend when the mercury spikes. Take a dip in the pool or use a sprinkler to cool down on hot summer days. Make sure you apply sunscreen before you head out into the sun and reapply as needed throughout the day.
Ventilate.
If you don't have air conditioning (or don't want to turn it on), tap into a natural cooling course: outdoor winds and breezes. Be strategic. Open windows that capture the breezes and ventilate the house. Close curtains and blinds on sides of the home where the sun shines in so your home is not acting like a greenhouse.
Keep the baking to a minimum.
To keep your home cooler, resist the urge to do a lot of baking on the hottest days. Try to use an outdoor grill that keeps the heat outdoors and your home cooler.
Eat lighter meals.
Avoid hot and heavy meals. Plan to eat lighter meals that are cooler and better for the body on hot days.
Schedule accordingly.
When the weather forecast shows sweltering temperatures, plan your day so that you are indoors during the hottest times of the day. If you have to be outdoors, avoid activities that could cause heat-related emergencies.