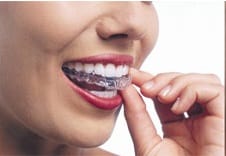 Admit it. You had to take a deep breath when the orthodontist said, "you need braces" or "your child needs braces." There's so much to consider: the cost, length of orthodontic treatment, the looks—and the type of dental braces to use. That's right, today's diagnosis of an overbite, overcrowded teeth or teeth alignment issue does not guarantee a metal mouth (though traditional braces have come a long way). You have four common orthodontic treatment options for dental braces:
Traditional Braces are the conventional braces you picture in your mind: stainless steel brackets and rubber bands that move your teeth by applying pressure.
Pros: Does the job quickly (faster than invisible braces), most inexpensive option, thinner than older versions
Cons: Look of braces (though this can be a pro for a child who likes colorful rubber bands), discomfort from tightening or metal in mouth, have to avoid certain foods while wearing them
Ceramic Braces work the same way as traditional braces, without the stainless steel. These braces are made to blend in with your teeth and use white and clear bands.
Pros: Not as noticeable, corrects your teeth faster than invisible braces
Cons: May require more maintenance because they are not as durable, ties may discolor
Lingual Braces are traditional braces that are installed behind your teeth.
Pros: Can't see them because lingual braces are installed on the back of teeth
Cons: More expensive than traditional or ceramic braces, more complicated (and longer) installation, speaking takes practice with the hardware in the mouth, does not always work well with small teeth, can be difficult to clean
Invisible Braces (Invisalign) are not braces; instead Invisalign corrects orthodontic problems with a series of removable clear trays.
Pros: Completely invisible, can still fix common orthodontic problems, less orthodontist visits (and maintenance), no food restrictions while in, costs the same as traditional braces (at least at Area Dental Clinic!)
Cons: works best for minor orthodontic corrections, only available for teens and adults, requires discipline because you have to wear 20 hours a day
If you have any questions about dental braces, and what option is best for you, contact one of our Area Dental Clinic dentists, Dr. Gibson or Dr. Thomas. Both dentists are certified to provide orthodontic services to adults and children, including Invisalign, and can answer any questions you have. Or schedule a consultation to get an examination and information so you, and your child, can go into the process of wearing braces without having to take too many deep breaths.