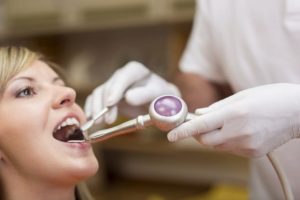 If you ask us if you have infection in your tooth, the conversation is probably going involve the term "abscess." When a tooth is infected, an abscess forms around the infected tooth. An abscess is a sac of pus that forms from an infection.
How can you tell if you have an abscess?
Unfortunately, and abscess is usually very painful and may feel like a throbbing toothache. You may also notice a bump that resembles a pimple in your mouth. Other signs of an abscess could include red gums, an unpleasant taste in the mouth, pain that extends to the jaw, sensitivity to hot or cold foods, or tender lymph nodes. Schedule a dentist appointment immediately if you notice any of these symptoms (remember to call, don't e-mail in cases of an emergency).
An abscess could also cause swelling or trouble breathing. If you experience either of these symptoms, see a doctor immediately.
How is an abscess diagnosed and treated?
If an abscess if not treated, an abscess does not clear up on its own. To the contrary, an abscess can progress into a life-threatening condition.
If diagnosed early, an abscess can be treated and the tooth saved. A dentist can diagnose an abscess with x-rays. Once diagnosed, a dentist can drain the abscess, remove the infection, and, if possible, repair the damage with a root canal. Your dentist may prescribe medication to treat the infection.
How can I prevent an infection and abscess?
The source of a tooth infection is usually tooth decay. For that reason, the steps to prevent an infection are similar to measures taken to prevent tooth decay and cavities.
Establish a regular oral hygiene routine. Brush and floss twice a day, every day. If you drink soda (or another sugary drink) or eat a lot of sugary or starchy foods, make sure you brush and floss as soon after as possible.
Use mouthwash. Purchase a mouthwash that strengthens your tooth enamel (other ways to strengthen enamel are listed here), loosens plaque, and removes the harmful bacteria that causes tooth decay and cavities.
Schedule regular cleanings. A professional dental cleaning removes plaque and tartar that can lead to tooth decay and cavities. Schedule a dental cleaning twice a year.
Eat a diet low in sugar and starches. Sugar and starches are one of the chief causes of tooth decay. Choose your snacks and meals carefully to minimize your risk for cavities.
Drink water. Water is a healthy drink for your body, especially your teeth. Fluoridated water strengthens tooth enamel, washes away small pieces of food, and helps avoid dry mouth which can leave your teeth vulnerable to decay. Avoid drinking a lot of soda, which has been connected to higher rates of tooth decay. If you do drink a soda, follow it up with a glass of water, brushing, and flossing.