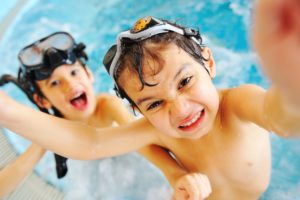 Cookouts, camping, hanging out at home.  All these common summer vacation activities can wreak havoc with kids' brushing and flossing routines—and their overall oral health.  Use these tips to keep your kids' smiles bright and healthy this summer—and to reduce your emergency runs to the dentist.
Use technology to keep it fun
If your kids love to play on the tablet or computer, use it to make brushing fun!  To make sure they are brushing long enough, use these fun videos or download one of these cool apps to make brushing for two minutes fun.  You can also set alarms with cool ring tones to remind them to brush every morning and evening.
Establish a healthy summer routine
It's really, REALLY easy to fall out of routine during the summer.  The result is less brushing and flossing during summer vacation, and more chances for cavities and other dental problems to form.  Try to establish a summer routine, and stick to it. Create a checklist of things your kids need to do every morning (and evening) with the basic "must do's," such as brushing and flossing teeth, changing clothes, etc.  Feel free to add in any "parental discrepancy" musts, such as doing chores or reading for 20 minutes.  Keep everyone supervising your kids in the loop about their routine and checklist, such as babysitters and nannies, for a consistent summer routine.
Schedule a summer cleaning
It's easy to be intimidated by your summer calendar; there are so many soccer games, basketball league dates, swimming lessons, vacation weekends, weddings, and…the list could go on and on. It's BUSY with a capital B. In the midst of all that running, find a day to get you and your kids in for a summer cleaning.  A summer cleaning rids your kids' mouths of any built-up plaque that can lead to cavities and catches any issues that could become problems before they become problems.
Be a good role model.
Your kids literally look up to you, so make sure you model good oral care.  Brush your teeth twice a day, one of those times with the kids, and floss on a regular basis.  Schedule dentists' appointments regularly, and talk to your kids about why it's important to visit the dentist.  For parents who are normally nervous about a visit to the dentist, seize this opportunity to overcome your fear (we've given you tips in this blog post) so your kids don't pick up on your anxiety.
Keep the soda to a minimum
Sodas are everywhere during the summer months: at cookouts, parties, weddings, and most other summer events.  While an occasional soda is okay (especially if followed by a brushing), try to keep your kids' summer sodas to a minimum.  Sodas, even diet sodas, contain sugar which can mingle with bacteria in your kids' mouth (and yours) to form acid. The acid from this reaction attacks teeth and can decay outer and interior tooth enamel.
Limit your kids' soda consumption during the summer by watching to make sure they only grab one soda from the fridge or cooler, and have them follow up with water once they are finished.  If you have any questions about sodas and your kids' teeth, make sure you follow up with your dentist at their next dentist appointment or with a quick email.