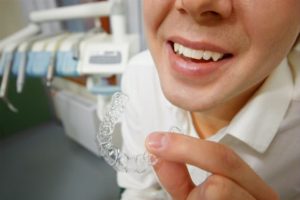 Adults wearing braces may be more common today (estimates say 1.5 million adults in the US and Canada), but it's still normal for your pulse to pick up a little when you hear that you may need braces. That's why we've put together a step by step list so you know what to expect from the process for getting your adult braces put on (and taken off!).
Choose your orthodontist.
The first step is to choose the professional you trust with your braces process. There are two options: an orthodontist who exclusively deals with orthodontics or a certified dentist. The bonus of the latter is that you only have to trust one individual with your mouth, and only have to make appointments at one office.
Schedule an appointment.
Every mouth is different, and every patient has different orthodontic needs. An initial exam, along with some diagnostic tests, gives your dentist or orthodontist the information they need to recommend the specific orthodontic treatment that can correct your problem.
Evaluate your options.
Get those pictures of obnoxious headgear out your mind. Today's brace wearers have more options that can correct the issue—and many adult brace options are completely invisible to other people.
Invisible Braces (Invisalign)
This brace option is not technically braces; instead Invisalign corrects orthodontic problems with a series of removable clear trays. Invisible braces can still fix many orthodontic problems, though they are completely invisible and require less orthodontist visits. Invisible brace wearers do not have any food restrictions and can eat anything with invisible braces. This brace option does require some discipline because the tray must be in approximately 20 hours a day. Invisible braces work best for minor orthodontic corrections; the best way to determine if invisible braces work is to schedule a consultation.
Traditional Braces
Traditional braces are the stainless steel brackets and rubber bands that have been used for decades. These braces correct issues by applying pressure; this method makes these braces an efficient option that can correct the issues faster than invisible braces. Traditional braces have come a long way in terms of appearance; today's traditional braces are thinner than older versions. Unfortunately, people with traditional braces do have to abstain from certain foods, such as popcorn and taffy.
Ceramic Braces
Ceramic braces use the same method to correct orthodontic issues, but with a different material than the traditional stainless steel. These braces are made to blend in with your teeth and use white and clear bands. The cons of ceramic braces is that they may require more maintenance because they are not as durable and may discolor.
Lingual Braces
Lingual braces are installed on the back of teeth and are not a very common brace option. Lingual braces take longer to install and can be difficult to clean. People with lingual braces may need to practice speaking because of the hardware position in the mouth.
Get your new braces.
Once you and your certified dentist or orthodontist have decided on the braces option that's right for you, it's time to schedule an appointment to get braces on your teeth. Ask your dentist if you should expect any discomfort from the appointment, and their recommendations for ways to lessen the discomfort.
Schedule maintenance (and removal!).
No matter what kind of braces you choose, the braces are going to require some maintenance done in a periodic exam. Ask your dentist or orthodontist how often you need to come in, and what kind of care you need to give your braces at home.