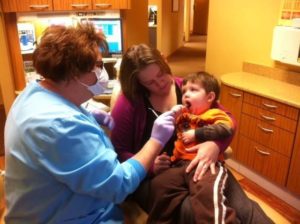 We previously wrote a blog post about helping your kids learn (and like!) to brush their teeth, but what about enjoying dentist visits? After all, the American Dental Association recommends kids see the dentist by their first birthday, followed by regular biannual appointments. So how can you help your kids overcome their fears, and enjoy a lifetime of pleasant dentist visits?
Show them how it's done. Bring your child along to your routine dentist appointment (not for a root canal!), or to an older sibling's appointment, and show them how pleasant it can be. Or schedule your appointments on the same day, and tell them you can go first. Many dentists also let you hold them on your lap during their visit.
Read books with them BEFORE the visit. Some kids love surprises, and others don't. If you have a child that doesn't like surprises, tell them about the visit and read books about it. Give them a good idea of what to expect. Visit your local library to find kids books about going to the dentist.
Play dentist. If your child has a favorite doll or stuffed animal, give the stuffed animal or doll a visit. Check the stuffed animal's teeth, and count them to make sure they have all their teeth (this is a great way to teach counting too!). Practice saying "aaaaahhhh" and opening their mouth.
Take along a favorite during the dentist visit. When it's time to go to the dentist, don't forget to take along your child's favorite doll, blanket, stuffed animal or toy. Let them hold the toy the whole time. If your child is a toddler, be sure to ask the dentist for a sticker or toothbrush for your child's favorite.
Don't let your nervousness show. Some kids are very sensitive, and can pick up on your fears about going to the dentist (even mild nervousness). Use positive words about the dentist, and don't let on anything but a positive attitude (even in conversations with other people).
Another way to overcome their fears of dentist visits and enjoy a lifetime of dentist appointments is to choose your dentist carefully. Select a dentist that is comfortable with kids, and even interacts with kids in the community. A good dentist should be good with your kids, and a good listener that can answer your questions: two keys to helping your kids love (and not fear!) the dentist.