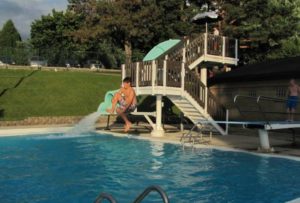 Summer is supposed to be a time of fun, so don't let unhealthy habits sideline your kids during summer vacation.
Keep them moving
It's too easy for kids to just sit and relax all summer—on their bed, in front of the TV, playing video games.  Instead, enroll them in swim lessons.  Sign them up for sports leagues.  Take a daily walk together as a family.  Go for a bike in your neighborhood or on a nearby trail.  Take a swim together at the local pool or lake.
Reinforce good brushing habits
Without a set schedule, it's far too easy for kids to "forget" to brush in the morning or night.  Don't let a fun summer turn into an emergency dentist appointment or a full night of comforting your child with a painful tooth.  Use these fun tips for teaching your kids excellent brushing habits, and supervise them as closely as possible.  If they need an extra incentive, set up a chart and reward system.
Be safe
Bike helmets.  Seatbelts.  Sunscreen.  As you are working and playing all summer, keep your kids safe by being careful.  Be careful with any fireworks, and supervise your kids closely in the water or around fire pits. (Here's more summer safety tips from the CDC.)
Keep your snacks healthy
With all the parties and barbecues, it's really easy to eat unhealthy foods like chips and treats (not to mention unhealthy drinks like soda!).  Stock up on healthy foods like yogurt, all-fruit frozen pops, raw vegetables, and other healthy snacks that can keep your kids (and you) fit and going all summer.  Another bonus of healthy snacks: some healthy meals can boost your kids' immune system and prevent illness (because who wants to be sick during the summer?).
Have a supply of water bottles on hand.
Keep your kids hydrated as the summer temperatures and humidity spike.  Make sure your kids are taking frequent drinks of water.  Send along a water bottle when they head out to sports practices, swimming pools, and any other active times.  Try to avoid juice, which can cause tooth decay.
Schedule doctor and dentist visits
Find time in your schedule for doctor and dentist visits that keep your kids healthy.  Schedule a regular dental cleaning and check-up with your dentist and an annual doctor exam to keep everyone in your family having fun during summer vacation.